FINAL FANTASY BRAVE EXVIUS CELEBRATES SEVEN YEARS WITH NEW HEROES AND REWARDS FOR ALL PLAYERS
SQUARE ENIX celebrates the seventh anniversary of the hit mobile role-playing game, FINAL FANTASY® BRAVE EXVIUS®, all summer long with limited-time events and lavish in-game rewards for players. Starting today, summon brand-new units, seek adventure in new story quests, earn rewards based on historical playtime and more.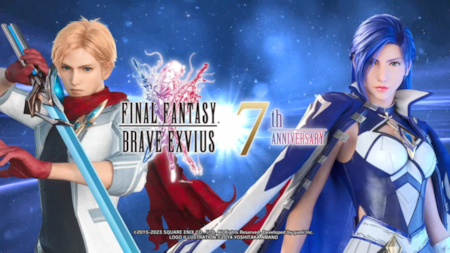 FINAL FANTASY BRAVE EXVIUS players can enjoy the following events and rewards as part of the seventh-anniversary celebration:
Producer's Present –

Between now and August 30th, log in to receive a one-time gift of NV Guaranteed 10+1 Summon Ticket (3★/4★/5★/NV) x1, NV EX Ticket (5★/NV) x7, 7th Anniversary Emblem x1, 14,000 lapis and more.

New Global Original Units

– Eternal Radiance Elena and Richt from the Fundamental Forces storyline join the playable roster of heroes as new Neo Vision units, debuting first in the global version.
Between now and August 2, take advantage of the chance to obtain a guaranteed Neo Vision unit on step 4 of the Richt Discounted Step-Up Summon, and a guaranteed Neo Vision unit on steps 4, 5 and 6 of the Eternal Radiance Elena Step-Up Summon. From the summons, player can also collect NV Exchange Tickets (E.R.Elena) and NV Exchange Tickets (Richt) to exchange for the respective units.



New Story Event

– The Fundamental Forces storyline continues with Fundamental Forces: Orphan Arc, where new story quests are available to players. Exclusive rewards await, including limited-time equipment such as Blessed Warrior's Robes, Blessed Warrior's Pendant and more.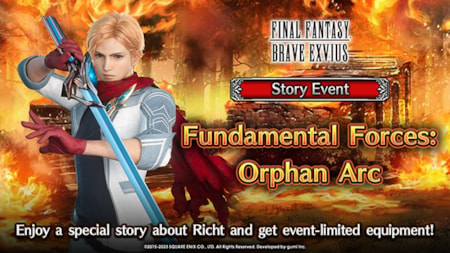 More Anniversary surprises are available, including the rewards and FREE Summons abound for new and longtime players as below:
7th Anniversary Global Original Vision Card

- Until August 23rd, obtain the 7th Anniversary Original Vision Card "Fundamental Forces, Assemble!", illustrated by the legendary Yoshitaka Amano, from the "Fundamental Forces, Assemble!" Login Bonus.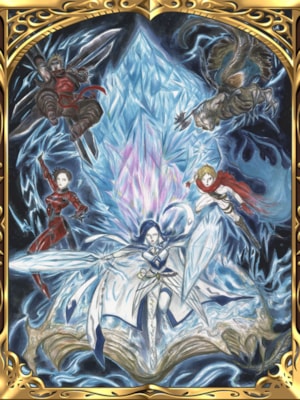 Fundamental Forces, Assemble!
7th Anniversary Login Bonus

– From now until August 17th, a three-part login bonus campaign will gift players who log in with up to 22,000 lapis and 10,000 Celebratory Lapis Replica (7th Anniversary). Celebratory Lapis Replica (7th Anniversary) can be exchanged for summon tickets such as 7th Anniversary 10+1 Summon Ticket and 7th Anniversary 7 Summon Ticket, as well as exchange tickets such as NV Unit Select Ticket (7th Anniversary) and NV Fragment Select Ticket (7th Anniversary), which players can use to obtain units and unit fragments.
7th Anniversary Weekly Free 70 Summon

- A special free summon that will allow players to summon 70 units per week, for a maximum of 700 units total if performed every week until September 6th will be available. New units will be added to the summon pool each week.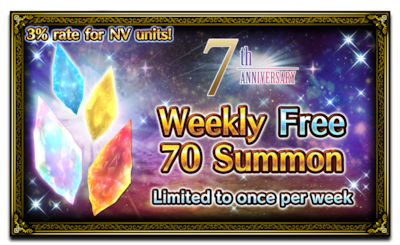 Guaranteed NV Start-Up Summon

– Players can enjoy a permanent summon that can be performed once with three guaranteed level 120 NV units from a pool of fourteen units.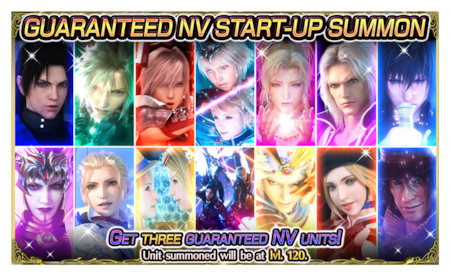 7th Anniversary Player Appreciation Summon

- Before September 6, players can participate in the 7th Anniversary Player Appreciation Summon, from which summons are gifted based on how many days players have logged into FINAL FANTASY BRAVE EXVIUS since release.
More details are available on the FINAL FANTASY BRAVE EXVIUS 7th Anniversary Campaign page:
https://sqex.to/fKMSU
.
FINAL FANTASY BRAVE EXVIUS is available now as a free-to-play app (with in-app purchases) through the
App Store
®,
Google Play
™ and the
Amazon App Store
. This title is developed as a collaboration between SQUARE ENIX and gumi Inc. (developer of the hit title Brave Frontier). The game is available in eight languages: English, German, French, Spanish, Chinese (traditional), Korean, Thai and Indonesian.
Related Links:
Official Website:
http://finalfantasyexvius.com/
FINAL FANTASY BRAVE EXVIUS CELEBRATES SEVEN YEARS WITH NEW HEROES AND REWARDS FOR ALL PLAYERS
Reviewed by
Admin
on Rating: