Acclaimed Souls-like Lies of P Reaches 1 Million Units Sold Less Than a Month After Launch
NEOWIZ, a global game developer and publisher, is happy to share that one of 2023's most-anticipated video game releases, Lies of P, has officially sold 1 million units globally less than a month after the game's successful launch on PlayStation®4, PlayStation®5, Xbox One, Xbox Series X|S, and PC via Steam and Mac via the Mac App Store for models with Apple silicon. This milestone comes after the title received a positive reception from critics and fans alike for its unique take on the classic fairy tale of Pinocchio and subtle innovations to the Souls-like formula. From critics, Lies of P earned an average of 80 on PlayStation 5, 83 on PC, and 84 on Xbox Series X|S on Metacritic as well as 89% positive review scores on Steam.
"This incredible milestone for Lies of P proves the potential of Korean console games on the global stage," said Seungchul Kim, co-CEO of NEOWIZ. "The Lies of P project was a challenging endeavor for NEOWIZ and Round8 Studio and we take great pride in what we achieved with this title."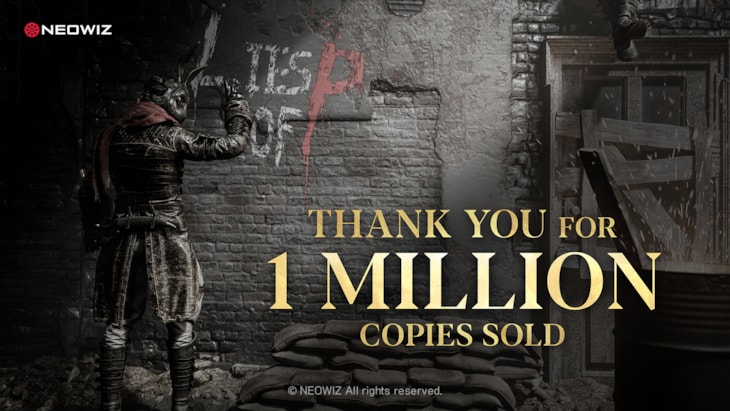 "The reception has been incredible so far, and we are beyond thankful that over 1 million players have already embarked on their journey through Krat," said Jiwon Choi, Director for Lies of P. "Likewise, we are excited for what the future holds for Lies of P, and can't wait to share more when the time is right."
Inspired by the familiar story of Pinocchio, Lies of P is an action Souls-like game set in the dark, Belle Époque-inspired city of Krat. Once a beautiful city, Krat has become a living nightmare as deadly puppets run amok and a plague sweeps the land. Play as a puppet who must fight his way through the city on his unrelenting journey to find Geppetto and finally become human. Lies of P presents an elegant world filled with tension, deep combat and character customization systems, and a gripping story with interesting narrative choices where the more lies told, the more human P becomes. Just remember: in a world filled with lies, no one can be trusted…
NEOWIZ launched Lies of P worldwide on Sept. 19, 2023. The standard and deluxe editions are available for $59.99 and $69.99 respectively, in digital or physical format on PlayStation®4, PlayStation®5, Xbox One, Xbox Series X|S, and PC via Steam and participating retailers. The standard edition of Lies of P is also available via the
Mac App Store
for models with Apple silicon for $59.99. This game is rated "M" for Mature by the
ESRB
, PEGI 16, and USK 16.
Acclaimed Souls-like Lies of P Reaches 1 Million Units Sold Less Than a Month After Launch
Reviewed by
Admin
on Rating: