Strategy Mobile Title Era of Conquest Reveals New Cinematic Trailer and Opens Pre-registrations
4399 is readying the battlefield as the studio gears up for the launch of epic strategy mobile title Era of Conquest in late October. In preparation for the game's upcoming arrival on
iOS
and
Android
, the developers have opened up
pre-registrations
and pre-launch events that give players the chance to win prizes as impressive as the real-time battles they'll be able to take part in when the game launches.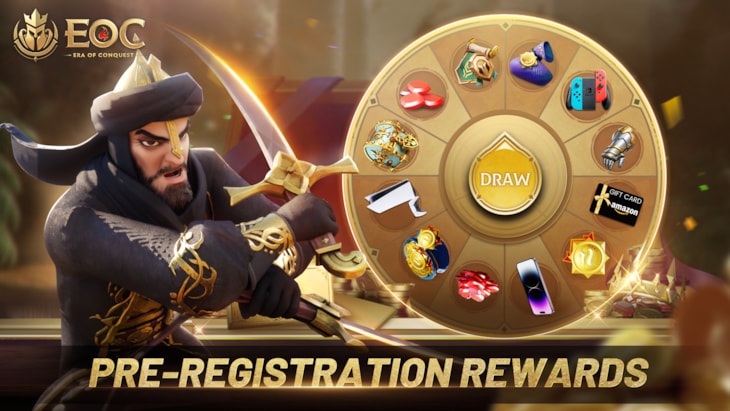 Starting today, players can pre-register for Era of Conquest and enjoy participating in a wide range of events leading up to the game's launch in late October. As players complete events, they'll be entered to win a myriad of prizes, including an iPhone, PlayStation 5 and Nintendo Switch. In addition, players will unlock rewards to help get them started with the strategy-centric game as they work to establish their empire.
In Era of Conquest, nine incredible historical civilizations will bring you epic clashes between an array of cultures. Step into the shoes of lords from diverse civilizations, using your wits and passion to dominate the realm. Lead legendary figures like Caesar, Hermann, and Cleopatra, along with iconic troops like Crossbowmen and Mamluks. Assemble your forces, forge alliances, pierce through the fog of war, conquer the unyielding, and journey from the outskirts of the continent to its very heart.
Take a look at some of the figures of legend that you'll be encountering or perhaps play as in the new cinematic trailer!




Fast-track your empire's development through city construction, alliances, and looting resource points. Boldly plunge into battles, as conscripting troops in the game won't drain your resources. As players lay siege on the battlefield, they'll be playing alongside 10,000 players simultaneously. The lifelike battlefield immerses players in a massive 120km x 120km seamless sand table map. Players can forge alliances with friends to create the ultimate empire.

Pre-registration for iOS and Android is now open for Era of Conquest. From now through the game's launch in late October, players can participate in events to earn rewards as well as entries to win an iPhone, PS5, Switch and more.

For more info on Era of Conquest, visit the official website, pre-registration pages and join the community.
Official Website: https://eoc.4399game.com/
Strategy Mobile Title Era of Conquest Reveals New Cinematic Trailer and Opens Pre-registrations
Reviewed by
Admin
on Rating: