FACE PSEUDO'S NIGHTMARES IN CLASH: ARTIFACTS OF CHAOS
NACON and Chilean development studio ACE Team are delighted to share a new trailer that showcases another unique mechanic in Clash: Artifacts of Chaos. A completely different gameplay experience happens during the night through Pseudo's dreams.
Click here to watch the trailer for Zenozoik by Night
Night falls over Zenozoik and shrouds the sky with its dark veil. It could be a peaceful night, but Pseudo's dreams have other ideas. Formidable and ferocious creatures roam this dream version of Zenozoik.
There are two ways to enter the night-time world: by resting at a camp or dying during the day. If you lose a fight during the day, you awaken at night at the last location where you set up camp in the guise of a wooden alter-ego. You then start a quest at night to find your body while dispatching the nocturnal enemies you encounter on the way. This is the only way to fully revive Pseudo and continue the quest you have embarked on during the day.
Travelling around Zenozoik under the stars is also a way to explore areas that can't be accessed during the day and to find chests and hidden items. But this will put your warrior skills to the toughest of tests because the dead of night is when greater numbers of more ferocious creatures emerge. Do they symbolise the nightmares that torment Pseudo?
Clash: Artifacts of Chaos is a unique action-adventure game in terms of its gameplay and art direction. Visually, there is the signature ACE Team style (Rock of Ages, The Eternal Cylinder), whose original designs range from the unusual to the flamboyant. As for the gameplay, players will get to unleash the ferocity of the main character, Pseudo, in third-person combat. Aside from exploration and combat, Clash: Artifacts of Chaos stands out from other action-adventure games because of a unique mechanic: the Ritual. Each participant has artifacts with unique properties, and the outcome of this ancient tradition defines the rules of the fight.
---
Preorders for Clash: Artifacts of Chaos are available. By preordering the game, you will receive two exclusive skins for Pseudo. Even the most cynical and solitary recluses sometimes want to change their look!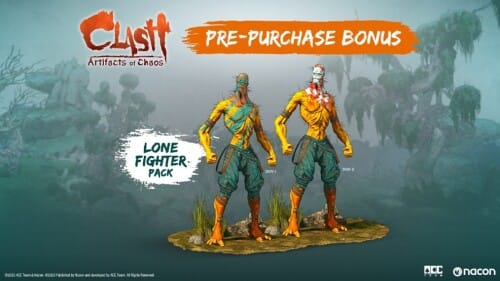 The standard version and ZENO EDITION of Clash: Artifacts of Chaos will be available on Xbox Series X|S, Xbox One, PlayStation®4, PlayStation®5, Steam and Epic Games Store on 9 March 2023. The ZENO EDITION includes the base game as well as the Supporter Pack with exclusive skins, the official digital artbook and the game's original soundtrack.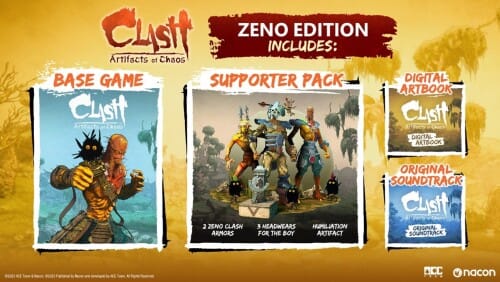 FACE PSEUDO'S NIGHTMARES IN CLASH: ARTIFACTS OF CHAOS
Reviewed by
Admin
on Rating: