UPCOMING DARK FANTASY STRATEGY GAME 'GORD' UNVEILS HORRIFYING BEASTS AND VIOLENT SPELLS IN BRAND-NEW GAMEPLAY WALKTHROUGH
Team17 and Covenant.dev have today released brand-new gameplay for the upcoming single-player dark fantasy strategy game,
Gord
. Narrated by Stan Just, Game Director of Gord and CEO of Covenant.dev, the
16-minute video
introduces Gord's grim and unforgiving world, its unique take on the strategy genre, and the rich proto-Slavic roots that serve as the inspiration for its horrifying creature design and deep lore.
In the video, Just introduces Gord's unique gameplay blend of city building, community management and player-driven adventure mechanics while examining the wealth of choice players will have during each playthrough of the game's campaign, and the fully configurable 'Custom Scenarios' mode. He also showcases some of the structures players can build, and how settlements (known in-game as 'Gords') can be customised with a range of different buildings, such as a combat training facility to access more well-equipped units, and a temple to increase their magical abilities. Just also discusses Gord's focus on personal stories, explaining how each citizen's unique personality, attributes and actions can directly influence player decisions and the long-term social dynamics of their community.
The new gameplay also explores Gord's satisfying real-time combat, showing Just clearing a creature-ridden swamp using an arsenal of brutal melee weapons and powerful incantations with gruesome results.
Watch the brand-new gameplay below: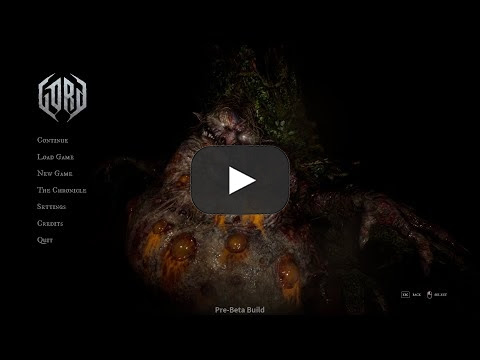 In Gord, players will lead the Tribe of the Dawn as they strive to establish new settlements and explore eerie forbidden lands while interacting with horrific creatures and deities inspired by Slavic folklore. Players will have to complete quests to grow the tribe's gords and fortify these from invaders while managing a populace whose personal stories, familial ties, and well-being, can have devastating impact on the survival of their communities.
Gord Key Features Dark Fantasy Strategy:
Lead the people of the Tribe of the Dawn and venture deep into forbidden lands in a lore-rich, dark fantasy, real-time strategy campaign
Build and Survive: Grow your gord from humble settlement to formidable fortress while protecting your citizens from invading tribes, gruesome monsters, and mysterious powers that lurk within the surrounding woods
Unique Sanity System: Keep a close eye on your townsfolk as everything from illness to hunger and the death of kin can have devastating impact on their lives and well-being
Hand-Crafted Quests: Take on a wide variety of quests and random encounters that will lead you deep into the wilderness to hunt legendary creatures, uncover ancient secrets, and vanquish deadly scourges
Unleash Powerful Incantations: Unlock a variety of offensive and defensive spells to tip combat in your favour, each with custom animations
Custom Scenarios with Procedurally Generated Levels: Take on an endless variety of challenges by creating your own scenarios. Customize your playthrough by picking a main objective, choosing your starting party, level size, number of resources, enemy types, raid intensities, and even the severity of the weather!
Visit
www.covenant.dev
and  
www.team17.com
for more information.
UPCOMING DARK FANTASY STRATEGY GAME 'GORD' UNVEILS HORRIFYING BEASTS AND VIOLENT SPELLS IN BRAND-NEW GAMEPLAY WALKTHROUGH
Reviewed by
Admin
on Rating: